The Praxonomy board portal, like most good online solutions, works well for geographically dispersed workforces. Paired with a good conferencing solution, the portal will manage just about everything your board needs for virtual meetings.
Some of our clients call this type of bundled solution "PraxPLUS".
You get to choose the 'PLUS' part. There are many screen-sharing and conferencing applications on the market these days, just about all of which will work well with the Praxonomy portal (no special integration required). However, it is worth noting that there are a few good products we see again and again; namely Wire, LoopUp and Zoom.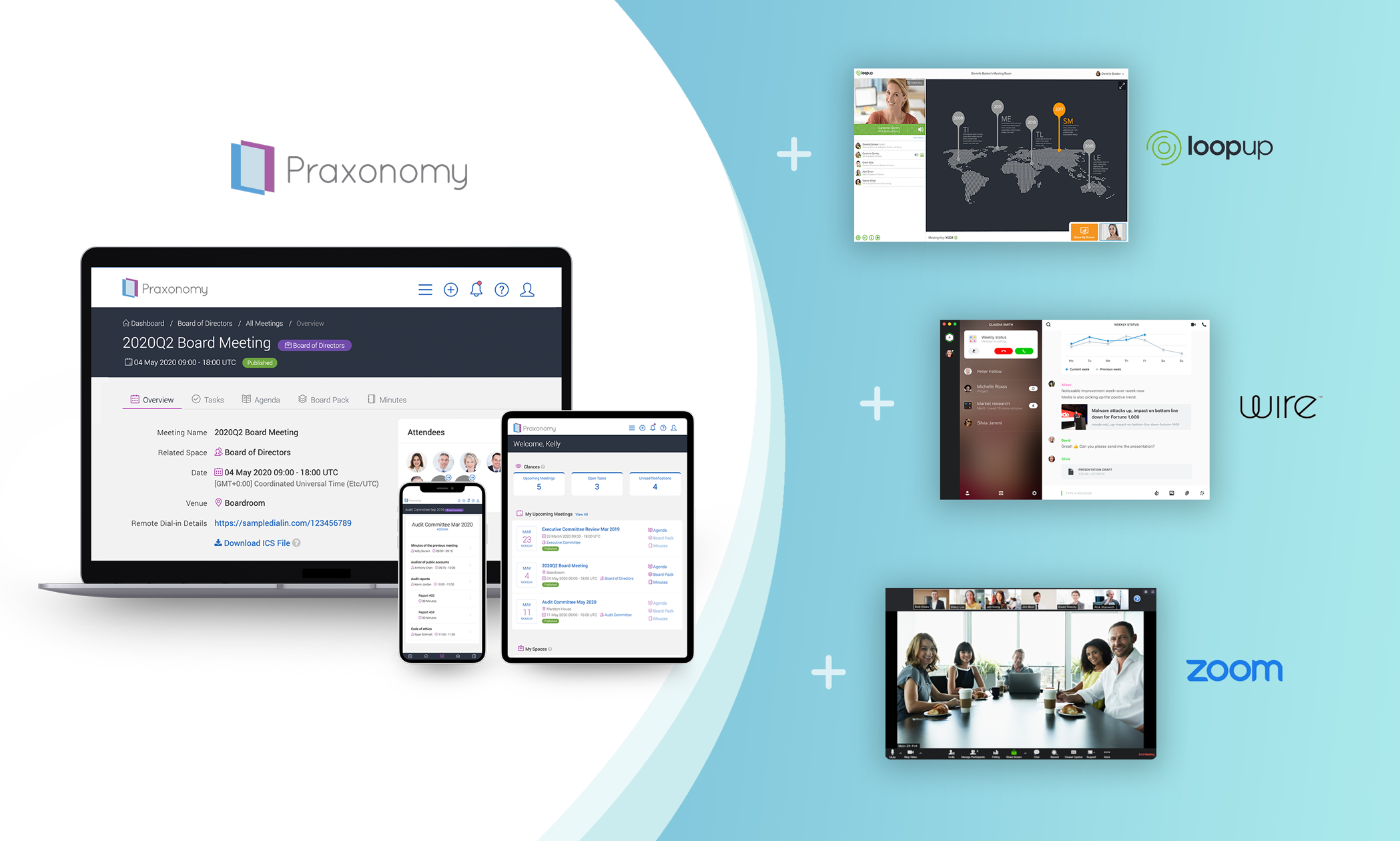 These three solutions, like the Praxonomy portal itself, offer real value in regard to security, ease of use and cost. Wire is especially strong on the security front, LoopUp on uninterrupted audio and Zoom on its user-friendly interface. They are all reasonably priced. If you haven't already settled on a collaboration solution, we recommend that you take a look at all three.
The bottom line for boards is that the COVID-19 pandemic is creating, among many other challenges, logistics constraints on their own work, including a shift from mostly in-person to remote-access meetings. Dialling in used to be a 'second-best' option used only on occasion. No longer.
Virtual board meetings have become the new normal at many companies. Some boards may not physically meet together at all this year, and maybe not next year either.
PraxPLUS is the answer. Simple. Affordable. Secure.
Schedule a demo with us today to find out how Praxonomy can help move your board meetings online.
Post-publication note (April 8, 2020):
Zoom has come in for quite a bit of media criticism for lax security recently, including in these articles in The Intercept here and here. Claiming security protection that doesn't actually exist while sending user data to the likes of Facebook and LinkedIn is more than a little alarming. To not publish transparency reports while locating security key generation servers in China and The United States is arguably worse. To his credit, Zoom CEO Eric Yuan has admitted the faults and taken company engineers and other staff off of research and development projects in order to fix the problems. You can watch the CEO's response on CNN here. Zoom will no doubt improve over time. Nevertheless, boards would be well advised to consider alternatives for now. Wire and LoopUp remain good high-security options, as does Jitsi, if you're looking for a free service that does not require account registration.